5 Great Gift Ideas For The Holiday Season
With the holidays fast approaching we thought you might need a little help getting some last  minute shopping done!  So whether you're looking for your kids, your wife, your hubby, your boss, or the ultimate fanboy on your list, this group of 5 great gifts for the holiday season should do the trick.  Best of luck and happy holidays!
Kids Imaginary Play: Kids Toy Firehouse Collection Set
Looking for a hot toy?  The Land of Nod's Firehouse Collection includes Firefighters, Fire Engine and a Fire Station.  All are made of durable wood and finished in beautiful paint and stain details.  If you've got a little guy or girl that loves firemen or fire engines this set is amazing!  The Fire Station includes lockers, fire pole and satellite dish (DVR not included).  The Firefighters set includes 1 captain and 3 firemen.  The Fire Engine  features an extendable, rotating ladder and provides plenty of space for those loveable little Firemen to speed to the rescue!  Recommend for age range 3 and up.  Not quite what you were looking for?  Right now there's a Huge sale selection at The Land of Nod – Go take a look!
It's the gift-giving season, and nothing is better than five boxes filled to the brim with delicious premium sweet confections in exclusively designed holiday boxes.  GiftTree has put together a fantastic gift they will be delighted to receive!  This incredible gift tower includes: Christmas Tree Yogurt Pretzels, Chocolate Bridge Mix, Cheesecake Caramels, Seattle Milk Chocolate Truffles, Merlino Black & White Cookies, Milk Chocolate Stars, and Dark Chocolate Confetti Popcorn.  This gorgeous gift set features five holiday-themed boxes stacked together to make a tower comprised of exclusively designed keepsake gift boxes.  The 'Tis the Season Gift Tower arrives decorated with a beautiful satin ribbon and even includes scissors for easy opening!  Measures 18" H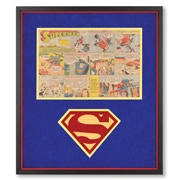 The Genuine 1940's Superman Comic Strip.
Exclusively from Hammacher Schlemmer, this is the genuine Superman comic strip clipped from a WWII-era newspaper and mounted in a framed display worthy of a four-color superhero. Superman famously debuted in Action Comics #1 in 1938 before his creators, writer Jerry Siegel and artist Joe Shuster, launched him into newspaper syndication in 1939.  These strips from the "Golden Age of Comics" have been culled from 1940's Sunday newspapers and they retain the charming halftones and sometimes off-register colors of older newsprint, making each unique.  Superman's newspaper adventures featured the familiar cast of allies and villains who appeared in the comic books, from Lois Lane to Lex Luthor, as well as the debut of such superhero tropes as the telephone booth quick-change.  Each framed strip bears just one unique moment in the history of this iconic superhero.  The Superman Comic Strip is mounted in three layers of laser-cut mats that depict the Man of Steel's pentagonal "S" logo, framed in solid wood, and protected behind UV-blocking, non-glare acrylic.  Strips will vary.  Dimensions are 30″ H x 25″ W x 3″ D. (8 lbs.)
Indulge friends, family and colleagues with exquisite gifts from six Gourmet Monthly Clubs
Since 1994, GMC's six "of-the-month" clubs have introduced their members to the world's finest specialty products in a format focused on quality, variety, and ordering flexibility.  They offer The Microbrewed Beer of the Month Club, The International Wine of the Month Club,  The Gourmet Cheese of the Month Club, The Gourmet Chocolate of the Month Club, The Fresh Cut Flower of the Month Club and The Premium Cigar of the Month Club.  You can order one or combine several.  Plus you can start with just a few months or up to twelve at a time.  You decide!  We've already tried the beer club and it is fantastic (here's our Microbrewed Beer of the Month review).  Now we're thinking we'll mix and match a few to get a little variety.  Whatever you choose, Gourmet Monthly Clubs is a superb service and the perfect gift for any "lover" on your list.  It's the "gift that keeps on giving".  Enjoy!
The Lord Of The Rings Trilogy (Extended Edition) Blu-Ray Boxed Set
The Hobbit comes out next week…Are you ready?  Do you need help brushing up on your LOTR knowledge?  Well the Quest Is Over: All 3 Extended Versions in Dazzling 1080p and DTS HD-MA 6.1 Audio.  This Deluxe 15-Disc Set from Warner Bros. includes 9 Special Features Blu-Ray DVDs with over 26 Hours of Spellbinding Behind-the-Moviemaking Material including the Rare Costa Botes Documentaries.  Here's what you get:
THE LORD OF THE RINGS: THE FELLOWSHIP OF THE RING EXTENDED EDITION –  With the help of a courageous fellowship of friends and allies, Frodo embarks on a perilous mission to destroy the legendary One Ring.
THE LORD OF THE RINGS: THE TWO TOWERS EXTENDED EDITION – In the middle chapter of this historic movie trilogy, the Fellowship is broken but its quest to destroy the One Ring continues.
THE LORD OF THE RINGS: THE RETURN OF THE KING EXTENDED EDITION – The final battle for Middle-earth begins.  Frodo and Sam, led by Gollum, continue their dangerous mission toward the fires of Mount Doom in order to destroy the One Ring.
PLUS – Special edition character cards featuring facts & stats on each of the main characters in the stories.  Booklets full of maps, drawings and misc info on Middle Earth and its main characters.  Massive amounts of commentaries, how-they-did-its, behind-the-scene footage and all sorts of fun stuff like sound & music, digital art and character bios.
The Lord Of The Rings Trilogy (Extended Edition) Blu-Ray Boxed Set is a must for every LOTR fan…whether casual or fanatic.  Grab it today and get yourself immersed in Middle Earth this holiday season!